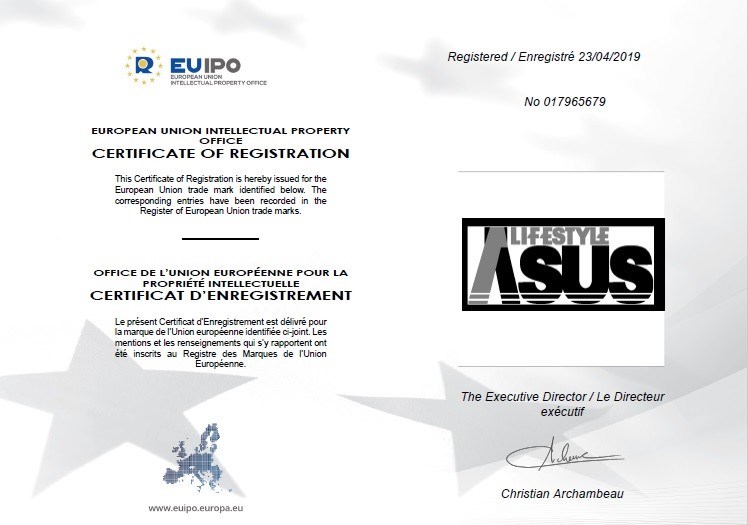 We declare that ,ASUS Lifestyle is our brand are affiliated to
Shanghai full-trust industry Co.,Ltd
We declare that ASUS Lifestyle is a registered trademark No 017965679
See registered certificate Attached to the site
EUROPEAN UNION INTELLECTUAL PROPERTY
OFFICE
CERTIFICATE OF REGISTRATION
Registered / Enregistré
No 017965679
This Certificate of Registration is hereby issued for the
European Union trade mark identified below. The
corresponding entries have been recorded in the
Register of European Union trade marks.
SHANGHAI FULL-TRUST INDUSTRY CO., LTD
Address: No.167 Peiyu Road, Jinze Town, Qingpu District, Shanghai, China 201718
www.asuslifestyle.com
Contact us
E-mail : shaym2201@gmail.com
WeChat ID : wxid_0bwlrkmaem6m22
Tel .+8613795373977
Director: Mr. Shay East

ASUS Lifestyle is searching for agents and partners across the world to build up long term cooperation and create mutual beneficial relation. If you are interested in being distributors for ASUS lifestyle whole lines of tools, ASUS lifestyle is eagerly waiting for your joining and will support you by every means!


This company offers a wide range of production lines, all specifically designed and engineered to provide maximum satisfaction to our customers. All products presented on the market with the brand ASUS Lifestyle are certified and subject to strict control at all stages of production.
ASUS Lifestyle products choice is explained by the strict work philosophy aimed towards satisfying both the retailer and the end user of each product. It is about considering your time and money by following trends in technology and design.
All ASUS Lifestyle product range is:
Home appliances
Refrigerators' cooking oven Pillows' Dishwasher
Washing machine' Clothes dryer' Toasters' Kettles
power tools
Tool accessories
Manual tools
Garden equipment
pneumatic tools, welding machines , water pumps, generators, accessories, power tools hand tools, etc.
The ASUS Lifestyle spirit is based on two pillars: always-competitive offering in the market and constant-professional advice on our products.
In ASUS Lifestyle , teamwork is a guarantee of professionalism, and so our customers can be confident in that our philosophy is and will remain the constant pursuit of perfection. Only this way will remain our name known in every corner of the planet.
ABOUT ASUS Lifestyle PRODUCTS
Our way: to establish strong strategic and trade ties with ASUS Lifestyle customers who trade ASUS Lifestyle products worldwide.
We stand as a binding link between the factories and international retailers, widening the scope and development of all our lines.
We are the exclusive distributors of ASUS Lifestyle Power Products worldwide.
The main strategic principles of ASUS Lifestyle Power Products are:
SUSTAINABLE PRODUCTION
Our factories are equipped to manufacture globally certifiable products, using environmentally friendly safety processes, while working continuously to reduce waste.
EXCELLENCE IN PRODUCTION
Our team of engineers and designers check every detail of our products, from material selection to the ergonomic design for users. ASUS Lifestyle products are designed to have a long life, high efficiency and ease of use.
EXPERTS IN CUSTOMER SERVICE
Our staff provide assistance to customers throughout the whole purchasing process, from initial contact step to the last operating and repair service. Customers also have full access to our network of Authorized Service Centers, as well as a wide variety of spare parts.
ONLINE SERVICE
We provide commercial support in the comparison and selection of our products. Additional services such as records and warranty are also included, ensuring a thoroughly enjoyable experience for our customers.
ATTRACTIVE DESIGNS
The carefully selected designs achieve attractive packaging and labels with clear instructions, which ensure a stress-free experience throughout the purchase process of our products.
We welcome you to the wonderful world of ASUS Lifestyle , and we hope that you will fully enjoy our great products!